Exceeding Imagination- the 10th China Flower Expo
The 10th China Flower Expo, held on May 21th, 2021 in Chongming District, Shanghai, is the largest and most influential national flower event in China. It has presented a flower event of this class on islands, villages, and forests for the first time.
The planned area of the 10th China Flower Expo is 9.91 square kilometers, including the Flower Expo Garden (North Park), Dongping Forest Park (South Park), Dongping Town and the southern service area. The Flower Expo Garden covers an area of 3.17 square kilometers. It consists of the main exhibition area and the southwest expansion area.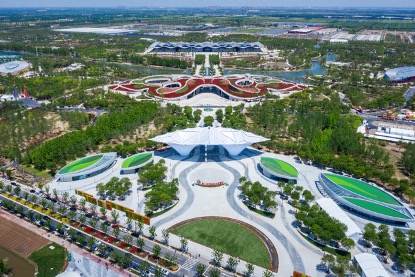 The 10th Flower Expo has been a real example of sustainability and environmental friendly – the site has received SITES gold certification and the two main pavilions have both obtained "WELL" gold certification, and three-star Green Building Design Label. It has also received Carbon Neutral Certificate issued by Shanghai Environment and Energy Exchange.