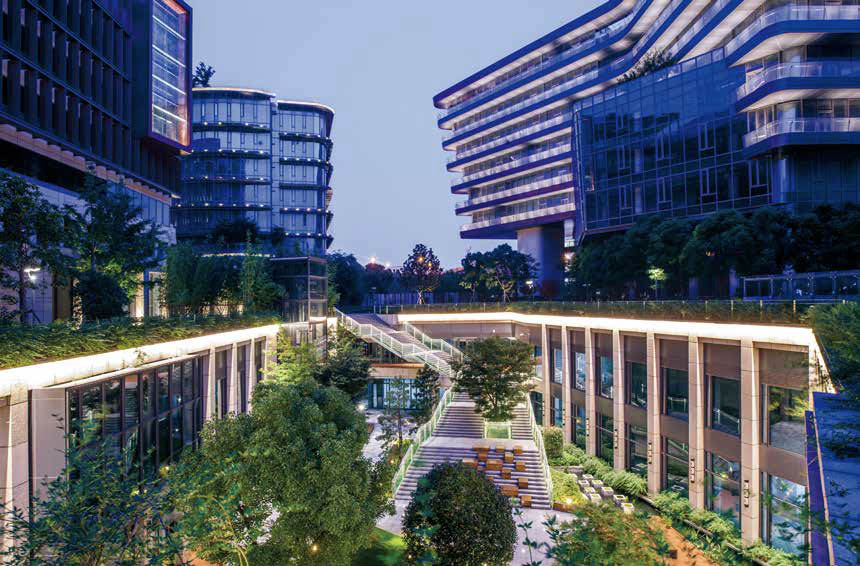 The project is located in D23 neighbourhood of plot 08, the core area of Hongqiao business district (phase I). The plot consists of 7 parcels.

1. Rational Urban Scale
Inspired by similar elements in spatial enclosure and urban scale of Berlin Potsdam's classic small-scaled & mixed-use blocks and Shanghai's older downtown area, the design creates a brand new business community with continuous urban interface and multi-layered public indoor spaces for socializing.

2. Shared Courtyards and Independent Spaces
While the landscape and partial service facilities are open to the public, the design has fully considered the independence demand of each headquarters.

3. Double Halls — Separated Circulation for Walkers and Cars
The sunken courtyards introduce daylight and vegetation to basement office entrance halls, echoing ground-floor entrance halls.
4. Vertical Greening
The sunken courtyards introduce greening to commercial service facilities and office entrances in B1 and B2, and turn them into delightful spaces. The multilayered vegetation forms a three-dimensional landscape system.
5. Flexible Layout Arrangement
Large span spaces are applied in office building. The column-free large spaces are flexible either as a whole or re-divided for office, meeting or other uses, greatly increasing efficiency.
6. Building Form and Details
The material use in elevation highlights contrast of solid and void. The light and vivid building form incorporates delightful and transparent offices.